Discussion Starter
·
#1
·
Went to Branson, MO for a week of vacation with the family, and happened to be 4 miles from Table Rock Lake. Upon arrival, Table Rock looked like my kind of lake, just everything there looked so fishy. Plus, it has some good smallmouth in it, and I've been dying to catch a big smallie.  
Fished a bit, not a ton, but we still fished. 3 times from the bank, 3 times in kayaks. Talked to a guy at BPS in Branson, who made fun of me for using 20lb flourocarbon on Table Rock, said there was no way I'd get bit on it. Well, it poured forever leading up to our stay there, and it poured while there. The lake was 3ft visibility instead of its typical 10-15ft vis.
Day 1
Launch:
Indian Point Marina
Weather:
59 in the morning for a low, highs at 80
H2O:
3ft vis, 80.3 degrees
Launched at Indian Point Marina, since we had caught fish there the night before from the bank. Turns out today would be different. Very tough bite. Caught a 15lb flathead catfish on a TX-rig. Caught a few scattered fish on cranks, TX-rigs, and carolina rigs.
Day 2
Launch:
Dale Street Ramp
Weather:
62 in the AM, highs at 84
H2O:
3ft visibility, 82 degrees
Launched at a small ramp near the state park marina. We caught plenty of smallmouth and spotted bass the night before so decided to launch there. Found spotted bass stacked up off a point in 25'-50' of water. They were suspended, and the only baits that I caught them with were wacky rigs and topwater.
Fishing a wacky rig that deep is tough, but paid off. Nothing big, but lots of feisty spotted bass.
Day 3
Launch:
Dale Street Ramp
Weather:
87 in the evening
H2O:
Off color due to boats, 83 degrees
Fished the same deep point as before, and found fish stacked up on it once again. This time, I fished the sides of the points which were steeper and had bigger boulders then the top of the point.
Threw a carolina rig on it, and got a good bite. Set the hook into a nicer fish, finally. The dink fest was ended with a 4lb smallmouth.  
Took pics and released her.
4lb smallmouth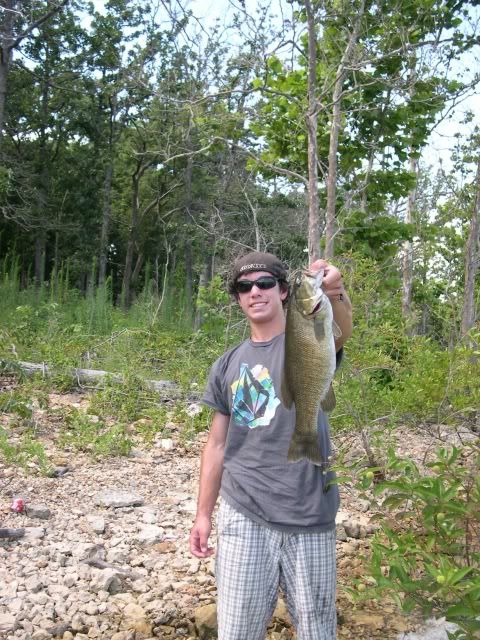 Overall, it was a fun lake. Fun area as well, lots to do in Branson. I would like to go back there again, it's a really cool lake.