Discussion Starter
·
#1
·
Well, down here in Florida. On the border of Orlando and Kissimmee. Been here since Saturday the 8th. Right after we arrived here, we had to go fishing.  8) First 5 mins of being in FL, I catch a .5lb bass.  :
Where's the big Florida bass?
Weather:
Low 60's, WINDY and sunny. Wind from 8MPH in the AM up to 25 in the PM. (Friday the wind was 45MPH+, with a tornado that touched down)
H2O:
Saturday 3/8/08, around 80 degrees. Sunday 3/9/08, around 65 degrees. Brown/orange rusty stain. 6ft visibility in backs of creeks.
Summer Bay Resort is the name of the resort we're staying at, and it has a pond. We heard it has fish in it, so we of course tried it out, and will continue everyday. Yesterday, I caught 2 dinks.
Today, we rented a mini-pontoon boat for the day to fish the pond. EA, the Port-A-Bote has competition.  8)
Mini-pontoon boat with a 35lb. thrust Minnkota trolling motor
Sweet setup.  ;D
Started out at a somewhat protected pocket at the east end of the lake. Caught one pretty fast with a TX rig.
First spot, and first fish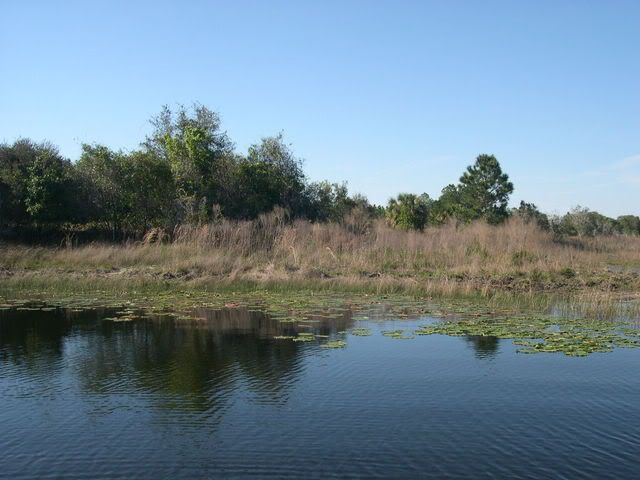 My Dad caught one at that spot, and then the wind blew us out of it. Ran (with the trolling motor) up to some tules. Found it very shallow, with no fish. We decided to try a point off some tules, and that was a good choice. Began catching them. Totaled with 9 in that area.
First around the pond, picking up a few here and there. Had a cool blow up. Fished my TX rig through some lily pads, and had a bass blow it up while it was sitting on a pad. Of course, missed it.  
Took a break for some hamburgers, then went back at it. Went to the first spot of the day, and found a few more.
First spot still has fish.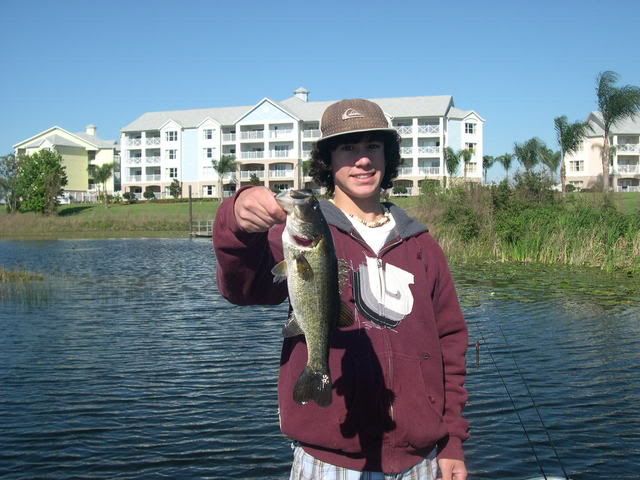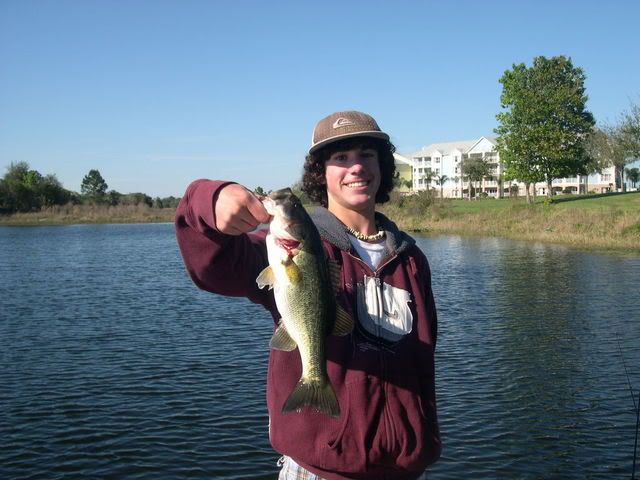 Around 5PM, the score was: rmvfishing: 11
                                              MOEDOG: 12
Found a spot in the middle of the pond by the water trampolines that held a lot of fish. Got bit almost every cast. The lake is shallow, average of 5ft. Just to give everyone an idea about how shallow it is, the first 3 fish I caught flew out of the water on the hookset.  ;D ;D ;D
Finished at 6:30PM when the rental was up. I caught 12, my Dad (MOEDOG) caught 13. I had first and biggest fish, biggest was only 2lbs.  :
Can't believe it, I've caught bigger fish on LT lately!  ???
Went back to the hotel, and went swimming for a bit. Went out and got something to eat, and finally convinced my Dad to go out from the bank again for a bit. I went ahead of him, and headed for the pier. I'm 3 for 3, let's see if I can scrounge up 1 more little fish for the night.
Started throwing my trusty TX rig, and feel a slight tap on the same stretch of bank I had my dink fest earlier on. Set the hook into what I thought was a small fish, and almost broke my wrist.  
Felt solid weight, and saw the sloshing. It's head shakes were so loud, sounded like someone was cannonballing in the shallows. After a short battle, he was on the banks. These little kids were there to watch the battle, and kept screaming, "the kid in the sweatshirt has a freaking monster!"  ;D Called my Dad, but he didn't answer. Saw him walking up to the bank, and held up the big fish. He sprinted over to take some pics. THis is what Florida bass should look like, not 25 little 1lbers.  ;D
rmvfishing's 7.5lber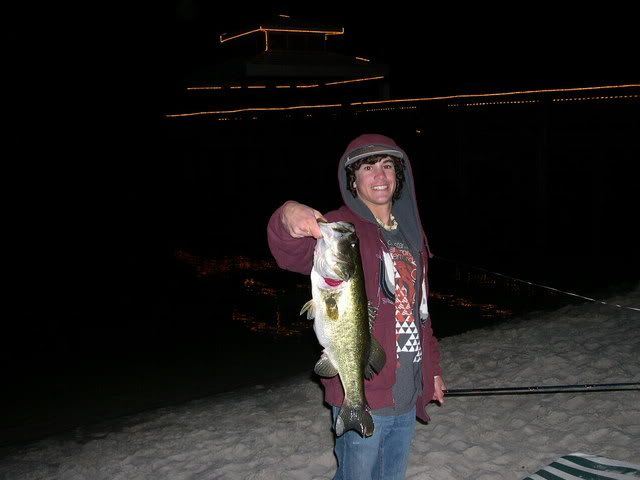 Well, in 2 days, we've caught 28 fish, biggest being 7.5lbs. Still have 5 more days, and we still haven't gone to Toho yet.