Discussion Starter
·
#1
·
LAKE:
  Stillhouse
DATE:
Friday 03JUL09
WEATHER:
 Typical summer day.  Mostly sunny and clear with temps in the upper 90's.  Winds were moderate SSE 11-19mph
WATER CONDITION:
~85  degrees around the main lake between river bend park and the dam.  Normal emerald green stain with fairly clear water.  Lost sight of my lure about 3 foot down.
SUMMARY:
Met up with my old FOM teammate (Regan/rvmfishing) for a trip to Stillhouse.  In the morning we started off by targeting sporadic schooling action with flukes.  Caught a few keepers but mostly weeded through unders.   When the sun got higher we c-rigged in some deeper water and pulled  a few more.  rvmfishing hooked into a decent 4lbr.  However, that's where his good fortune ran out because he had one shake off that was most likely a double digit.  Oh well, maybe next time.  I on the other hand caught a few keepers and a few dinks here and there between my nap and a quick swim in the lake.  Not quite the tournament mode that I've been in the past few months but definitely fun time on the water.  I'm enjoying the relaxed pace of the off season.  Tight lines, have a happy and safe 4th of July.
rvmfishing's larger fish of the day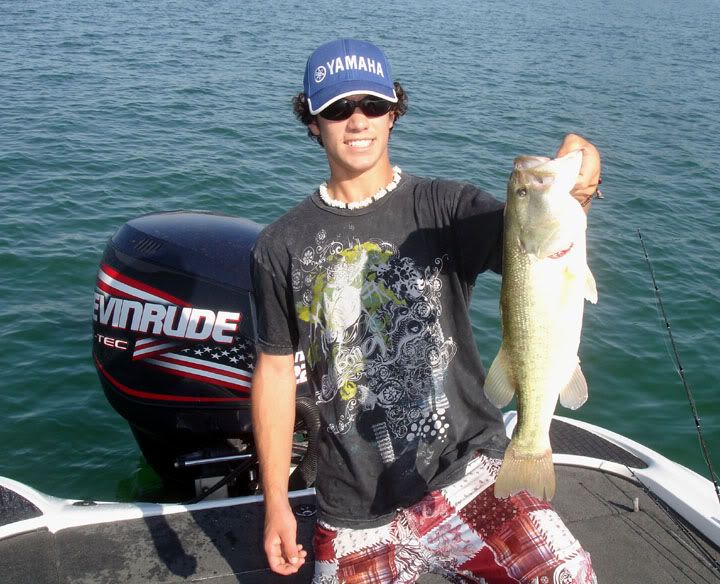 A refreshing jump in the lake