Discussion Starter
·
#1
·
Launched at 5PM and messed around throwing a frog for 45 minutes before finally getting a fish on it but it came off before I could land it. It looked around 3lbs.
Then started throwing the dropshot with dark green/brown roboworm and immediately started catching, good fish too. It died off around 6:45 and only got a few more bites around 7:15 but no hook up. I think I caught 8, lost a few more at boat. Biggest of night was 4.6lbs. I wasn't expecting much and it ended up being a really good trip. It rained right after launched for 5 minutes so it really turned around quick!
Didn't take photos/weigh everything because I was basically getting bit nonstop: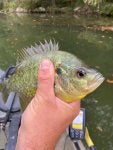 Caught one of the most beautiful bass I've seen, looks like a Florida bass. It was 2.07lbs.