Discussion Starter
·
#1
·
Jukebox and I headed for the water bright and early this morning.  I think the boat hit the water at about 7:50 am.  (hee hee)  ;D
Water was 57/ 58, and being stuck on my jig bite, we tried some points and drops near some shallower water flats and coves.  Nothing.  Every time I got close to the shore and Juke got his Senko near a bush he caught one.  I think he had me down 0-4 at lunch time.
I finally had to break down and whip out the shakey head.  (airfob asked me how it was going <via text>- told him juke was beating me, he wrote back- stop swinging for the fence with the jig and pick up the shakey head.)  Caught a couple of small ones pretty quick, then finally caught a nice one on a jig- about 3lbs.  
But Juke was still ahead of me on numbers and now he was determined to catch a big one too!  I was hoping to keep him down, but a while later he hooked a nice one that really put it on him!  It was a long battle, and I didn't think Juke would pull it out, but finally the fish came to the boat.  It was about a 3lber.  
I think we ended up somewhere around 20 fish or so.  Juke had a few more than me.  Two 3's, 2 2.5's, a couple of 2's and some 1.somethings, and a few dinks.
Most of the fish were caught on shakey head worms or Senko's. Anywhere from right on the bank to 10' deep off the brush line. The more active fish were shallow, that's for sure. But not everywhere, just here or there. It's really close to those green guys bedding down for some lovin'. Another week or so of warm weather and we can start looking!!
It was a pretty fun day on the water, got to give Juke a bunch of grief and he gave it right back.  Got to set the hook a few times, can't ask for much more.  Good times.
'Till next time......
My 3
Jukes 3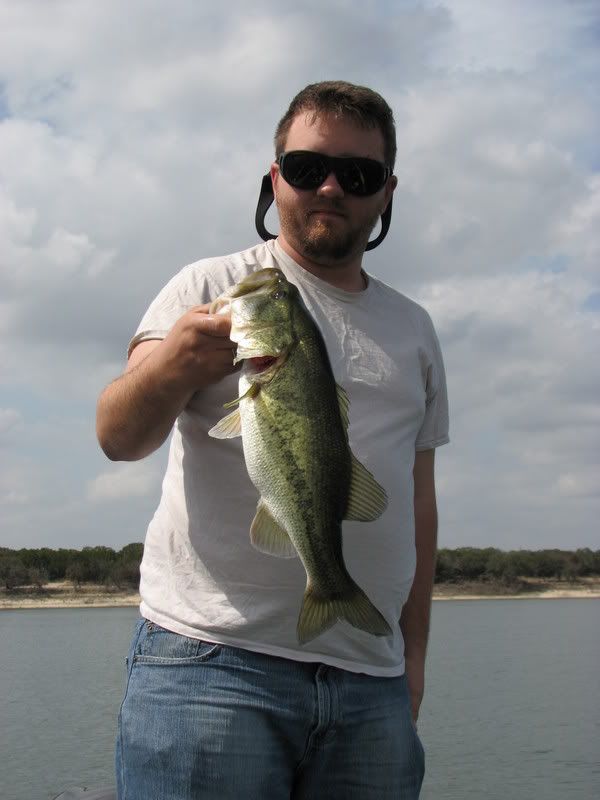 One Juke caught that needs plastic surgery...
A decent rat
Juke getting worked by a 13"er
Nice belly on this one