Discussion Starter
·
#1
·
After a remarkable 2008 rookie season of fishing my first tournament trail, 2009 has been extremely tough.  For the past few months I've been wondering why I ever got back into the sport and have been trying to shake the funk off my fishing.  
How do you know it's time to take a break?  When the excitement and anticipation before a tournament are replaced by monotony.  To make things worse, Mike and I paid our way into the last Champs event on Belton and didn't even show up to fish it.
A good buddy told me rather than opting for putting your head down and fishing harder, hold your head high and appreciate the fact you have the opportunity to be out on the lake.  Let go of everything holding you back and have fun doing it.
I never really understood what that meant until yesterday.  
Mike and I took his oldest son, Preston, out to Travis for a few hours in the evening.  After a rather slow day on the water we were about to call it quits...luckily we made one final stop as Preston ended up catching the largest fish of the trip and his new personal best!
I recall looking over at him setting the hook, his rod doubling over and thinking to myself he was hung on the rocks.   But then the line started moving off and Mike and I looked at each other and thought the kid might actually have a fish.  It took several seconds of Preston diligently cranking away before the fish showed itself; and when it finally did we both let out a couple of expletives...ear muffs for sure!
The first time the fish came up and shook its head it was about 20 yards from the boat and looked to be 6-7 pounds easy.  After what seemed like an eternity Preston finally got the fish close enough to the boat for us to net it.  Preston's fish ended up weighing a little over 5 pounds but I felt like we had just broke the lake record!
It's hard to put into words what I felt after witnessing this first hand.  I've been fishing a lot over the last couple years and yesterday ranks right behind our Rayburn trip in terms of fun and excitement.  
Thanks again Preston for remindning me why I fish...it's not about winning, being better than the next guy or who catches more or bigger fish.  It's all about enjoying the time on the water with friends and family; and the more I think about it the more I realize the only reason I'm even fishing is because of the buddies I've met through the sport.
So the next time anyone sees me moping around a tournament weigh in please feel free to pull my jersey over my head and punch me in the gut!
By the way, Preston's fish came on a watermelon red fluke and our best 5 would have been 16-17 pounds (including Preston's fish) just goofing around with the kid. Fish were caught all over the place on the upper end using jigs, flukes, crankbaits and jerkbaits.  I have a feeling we'll see a lot of good sacks next week at FOM.
Here are a couple more of Preston's fish...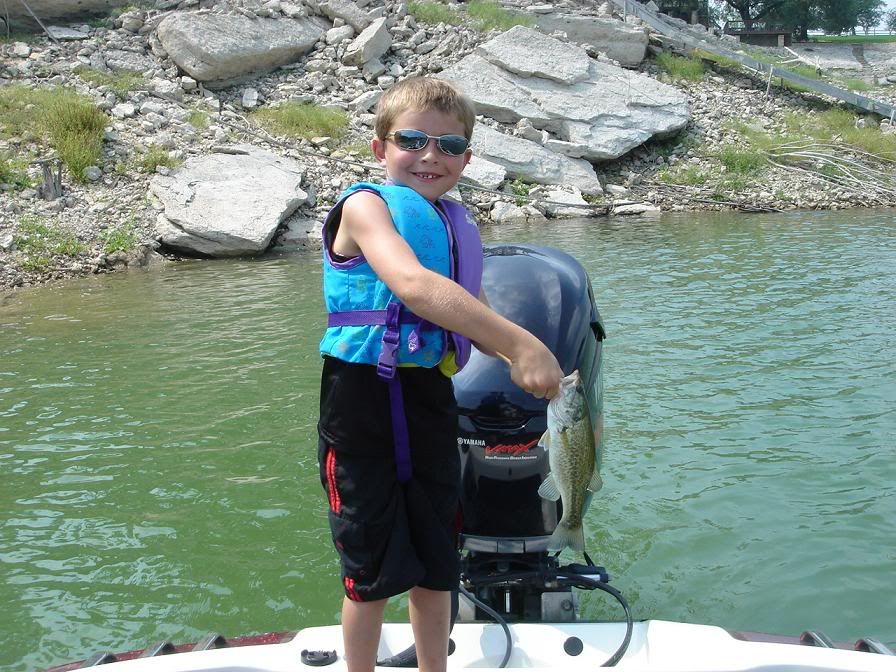 Most of his fish came dropshotting a watermelon/gold Yamamoto Kut Tail around docks.  The kid is an extremely fast learner and even started selecting his own colors and baits by the end of the trip!