Discussion Starter
·
#1
·
February 7-9, 2008
(Watch the video at
http://www.youtube.com/watch?v=DPwps0xUooQ
The spawn is on at Lake Huites! I just returned from Trophy Bass Lodge and a three day trip, and the fishing was exceptional. The weather was great, cool in the mornings and then perfect in during the day. Huites has produced 11 bass over 10 pounds in the first two weeks of February, most on topwaters!
The first morning started out with top water fishing. We had found that it was important to let your top water sit 3 or 4 seconds after it hit the water without ever moving it, as this is when most of our strikes came. While the top water bite was not producing incredible numbers, the quality was excellent. We also caught them on Texas rigged YUM Dingers in watermelon and the BOOYAH Boogie spinner bait in white. We had no real giants the first morning, but we did have lots of 4 and 5 pounders. After heading back to the lodge for lunch, we returned to find instant afternoon action. We immediately started catching bass on the Texas rigged Dingers and the new YUM Big Show Paddle Tail worms.
Around 3:45 we came up on a bank that now had some afternoon shade on it. I pulled out the Zara Spook in bone and hooked up quickly with several quality bass. As we approached a big bush in about 6 feet of water, I realized it was shaking violently. We often see tilapia shaking these bushes as they eat the vegetation off the sticks and limbs, but this one was obviously not caused by tilapia. I could tell a big bass was in there hammering out some dinner, so I tossed my Zara Spook right up past the bush. After letting it sit several seconds, a big bass exploded on the bait and the fight was on! As you can see on the video, as I was working this fish to the boat, it jumped and threw the top water out of its mouth. However, as the bass landed it re-hooked itself on the back treble hook! The bass was somewhere between 7 and 8 pounds. Shortly thereafter, Pete hooked up with a solid 6.11, the biggest bass of his life. We finished out the day fishing top waters and catching some great fish. We finished day one around 160 bass up to 8 pounds. Mike and Craig, however, stayed with a Texas Rigged Dinger in watermelon and also black and ended the day with 305 bass! This pattern produced an incredible number of bass, and their big fish was around 6 pounds.
We caught the big bass on day 2. As we approached the concrete piling for the railroad bridge, Pete pitched a Yum Dinger up next to the concrete, and as it sank a big bass took off with it. After a short battle, caught on film, I lipped this big hawg and the celebration began! She weighed in at 12.4 pounds, one of the biggest bass caught at TBL this year! After a few photos, we then took video of the release and sent her back to make some more future giant Huites bass. Here is something that is just not right. The last time Pete went fishing was 8 years ago when he came up to Texoma and I took him striper fishing. And in his second day he catches a 12 pounder! That after we caught over twenty from 4 to 7 pounds.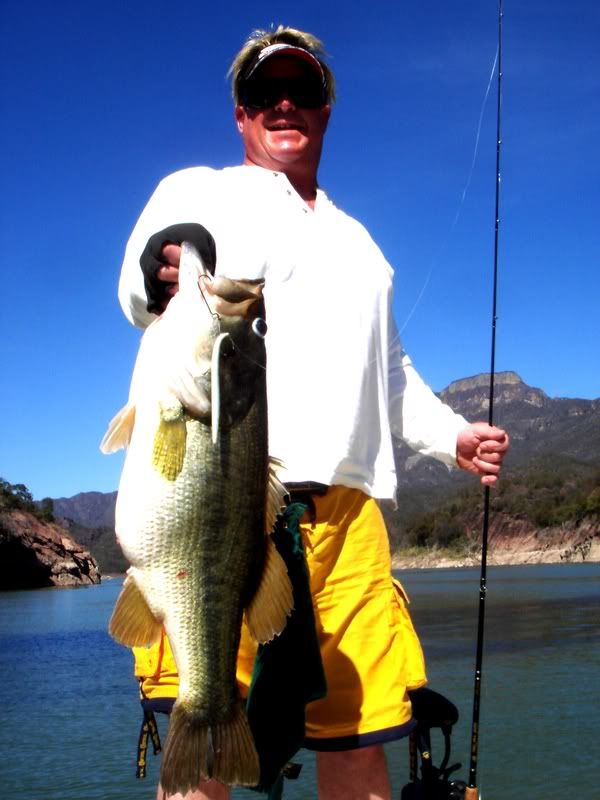 On day three, our last day, we again started off with top water. However, they wanted nothing to do with it. As we made our way up the lake, the bite was definitely not as good as the previous two. After meeting up with the other three boats near the trestle, we all made the decision to go way up the river, farther than any of us had ever been. It turned out to be a great move, because these river bass we feeding much better. It was allot of fun to fish this shallow water with spinner baits and crank baits, producing great numbers of 3 to 6 pound fish. I got on a pattern of slow rolling a BOOYAH Boogie spinner bait in white down the steep banks, and they were crushing it.
We all made our way back for another shore lunch, and began fishing our way back down the lake. I stayed with BOOYAH Boogie the rest of the afternoon, and it continued to pay dividends. We finished up with another great afternoon, catching too many 3 to 7 pound bass to count. It was an absolute blast, and by the end of the day our fingers, wrists, elbows, arms, and back were aching from the abuse these bass gave us.
Pete and I ended up with the following estimated numbers:
Day 1: 160 bass, 40 over 4 lbs with a 6.10 and 7.4
Day 2: 130 bass, 35 over 4 lbs with a 12.4
Day 3: 110 bass, 25 over 4 lbs with a 7.2
Lake Huites has to be the hottest Lake in Mexico! We have only a few slots left for February, but there is still some availability in March, April and May. This is the best I have ever seen Lake Huites, and I cannot imagine what it will be like next year! But don't take the chance, get down there now if you can.
Brett Graham
www.texmexadventures.com
www.trophybasslodge.com