Discussion Starter
·
#1
·
LAKE AUSTIN
DATE/TIME:
Saturday 11MAR09 5:00pm-10:00pm
WEATHER:
 Rain clouds, cold, light winds from the south, 10 mins of light rain then no precipitation and very easy conditions to fish in.
WATER TEMP:
(~62 around mid lake)
VISIBILITY:
Mid lake was just slightly stained beyond normal but no near as murky as I thought it would be with the previous nights rain drainage.
SUMMARY:
I had the privilege to fish the TTZ Wednesday night with my good friend Larry Pederzani.  We got out an hour early and did some pre-tournament scouting.  The results were promising.  We ended up boating a 6.10 lb and a 5.07 pounder just 15 minutes before the pre-T meeting at CP.  We released them in front of the tournament officials and cleared our livewells for the tournament.  Unfortunately, those would be our best fish of the night.   During the T we had a couple more small keepers and a handful of dinks.  All fish were caught by flippin a jig or plastic worms to shoreline reeds or docks.  
It's a good thing I don't let posting of bad weather or forecasting of bad weather intimidate me.  Because I would have missed a nice evening of fishing with friends.  Besides, this is Texas and the weather doesn't always do what the forecasters say.  I know it probably doesn't work for everybody but for me a game time decision on weather is the best way for me to maximize my chances of getting on the water.   Surprisingly, the weather that we actually observed was very fishable so we headed out and enjoyed the evening.  
As usual a great job by Andy and Eric for hosting the T.
Congrats to Dale for busting last years record right off the bat.  Dude....Holy Smokes... nice sack of fish!!!
Nice seeing all who were there and meeting stark and tecate for the first time.
Larry with his 5+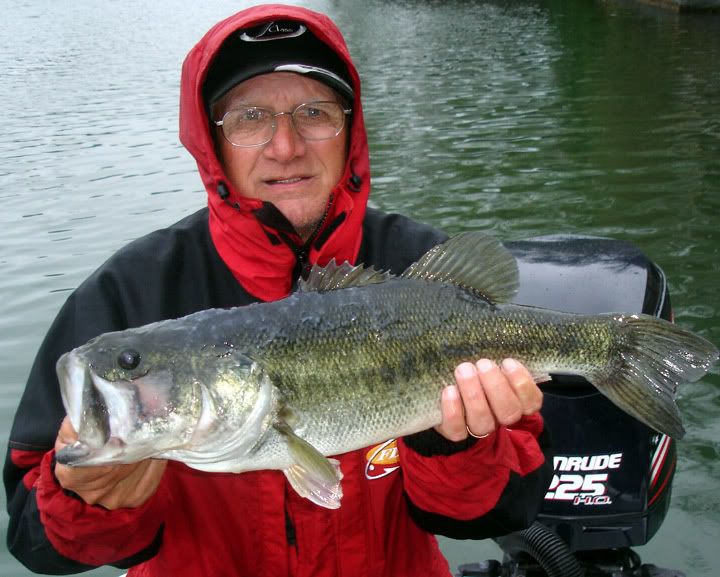 Rude with the 6+
Both for comparison.