Discussion Starter
·
#1
·
Weather: Overcast, morning temp was in the high 70's. By about 10 AM low 90's
Water Conditions: North end of LA was pretty clear to 4-5 feet.
Started at the Bluffs again this morning with my 4 year old daughter and my sister-in-law. Snagged one dink to start, 2 casts later my daughter hooked a 3 pounder on her little pink rod and reel and fought it almost all the way to the boat. I was extremely impressed. He even came up and did a head shake while she was towing. 3 more dinks and 1 keeper sized fish and that was that.
I have a picture I will add of her fish tomorrow (Sun).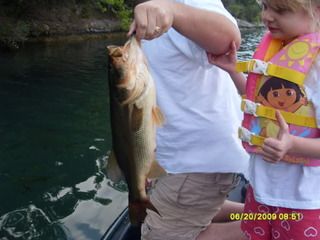 Here is the other we grabbed just before we got off the water
It was great running into Cory (Motoknow) this morning and then later pulled up to Yung (RudeHo225) and said hi. Good to run in to familiar faces out there.
Really looking forward to the 'strop on Saturday!