Discussion Starter
·
#1
·
Lake:
 Lake Austin
Date:
26 FEB 2011  3pm-6:30pm
Weather:
Warm cloudy overcast afternoon in the low 70's.  Light s/sw wind.  
Water Conditions:
 Normal stain.  Temps around 59-61
Wow, I can't say enough how much I love LA.   Weemo catches a SAL then another SAL was caught this morning at the jackpot.  What a fishery!  
I've been a little under the weather but couldn't stand all the great reports of huge fish. I dragged myself to the lake around 3 this afternoon to see if I could get bit.  Pretty much did the same thing as last Monday.  Targeted docks and some retaining walls with a TX-Rigged Senko.  I caught a few dinks, nothing special so I decided to hit one more spot on my way to the ramp.  It was just after dusk and I was getting hungry but I had some pep left to give it a shot.  I'm sure glad I decided to make that last stop because I ended up hooking a 9lb 8oz.  This was a nice finish to the evening and sent me home with a nice grin.  She's not a SAL but I'm happy to take the honorable mention.
Again, what a great fishery.  LA has produced 3 of my personal best bass.  A 10 and a pair of 9's.  Love that place.  Special thanks to T-Dub, Andy, and Booker for taking the photos!    
Good luck to everyone and tight lines!
Here she is.  My 3rd biggest bass, 9lbs 8oz.  Guess it's time to change the siggy and kick off that 8lbr from Choke.
Tried to get a shot of her belly.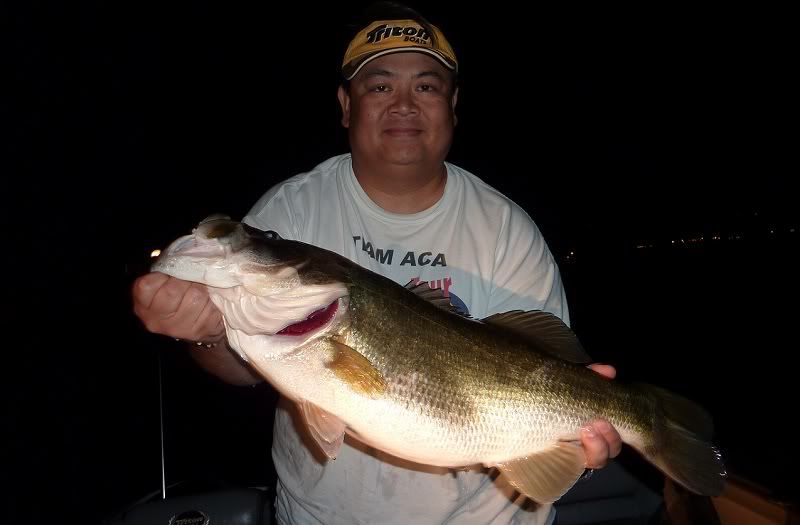 The release.  Go forth and give birth to a future hog.