Discussion Starter
·
#1
·
Dropped in with my buddy Steve at 360 right at 4PM and fished until dark.  Made the run up north, towards the Quinlan area and fished bluff walls (not "the bluffs") throwing a senko with 1/16th ounce Tungsten, Rage craw on the same set up and 3/8 to 1/2 ounce Booyah spinnerbaits.
Steve hooked a nice one, weighing in right at 6.2 on the Xtools and I had a 4.3 on the booyah.  We both had a few dink keepers, best 5 would have been 14 pounds or so.
Boat traffic is halted to standstill.  Saw one other wake board boat and a few pleasure run abouts and that was it.  Had a few other bass boats out there we waved to, think I saw Fishing_Steeler in his Skeeter.
What an enjoyable day, light boat traffic, cool weather and a few nice fish made it a very cool 3 hours of fishing.
Steve still has the blue 'gill touch, managing to get one hooked through the mouth on a 1/2 ounce blade takes talent!
I will post up pics later tonight when I get them off my camera.  
6.2, very beat up fish...I don't think she had a dorsal fin...strange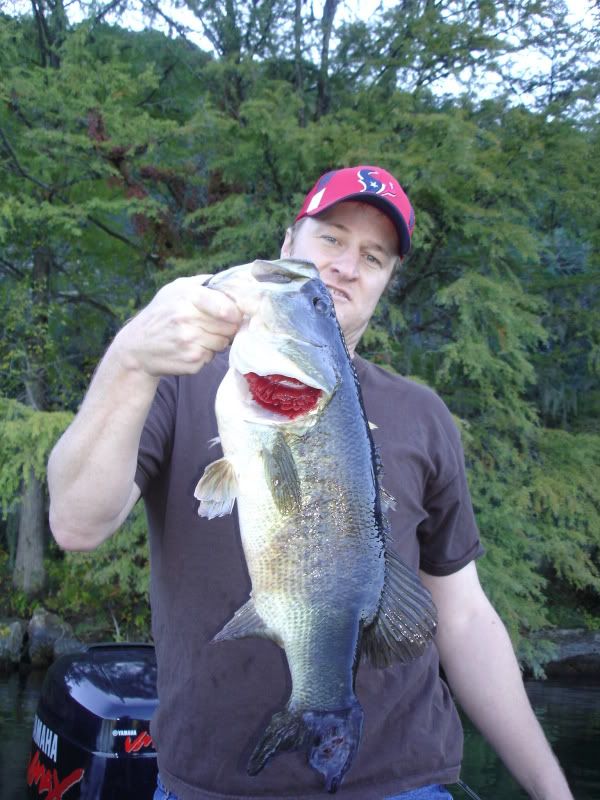 My 4 and change...