Discussion Starter
·
#1
·
DATE/TIME:
   Sunday 20APR08 6:45am-2pm
WEATHER:
     Cloudy skies, cool air temps in the upper 60's down to low 70's.  Winds were light to moderate, variable to about 8-12mph out of the southeast.  
WATER TEMP:
62-63 in Cypress Creek
VISIBILITY:
  15-20 feet  (The water is ultra clear with a nice green tint on the main lake from just about every area I visited between the lower basin to Point Venture.)
SUMMARY:
Took a break from practicing for upcoming FOM Belton Tourney by taking a friend fishing on Lake Travis.  It was his first time fishing in about 12 years.  I heard some dock talk that the previous day was fairly slow and hoped that I could put him on some fish and make it a good fishing trip.   Fortunately for us the bite was very constant and consistent.  We both had a limit of keepers with plenty of travis specials mixed in.  Best 5 fish probably went around 12lbs.
We fish main lake bluffs and points using finesse worms with a slow initial soak then twitch drag twitch presentation.  The bites were either strong taps or a gulp and the line swims away.  
Had a really good time just out fun fishing and re-introducing someone to the joys of fishing.  I had a few interesting bass that need some minor medical care, hence the animal ER reference in the subject discription.  You'll see in the pictures below..
Tight Lines,  Rude.
PS:  
-good seeing you out there Dahorns... hope you got into them
-Sorry I missed you out there Charlie.  Didn't know you were out.
-I think Tx-hawgs was out there with some clients
Some Travis keepers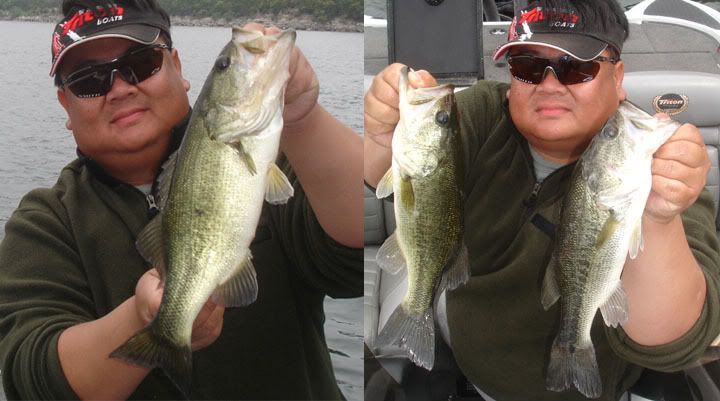 Another Bass with color pigmentation (Like HHJ's fish)



========Animal ER=======


2 deep gullet hooks removed on one fish.  
    Mine and a previous hook..  (no pics)
fizzing/venting some fish (pics)
worms worms worms, ewww  (pics)
*Some patients needing some venting
I'll post more about the through the gullet procedure in the tips and tricks section
-->click here to go there now<---



*A patient with a parasitic worm draging out it's rear end... Ewww..  The worm was trying to go back in but I removed it or at least part of it with some forceps...  Nasty...   :-X :-X


:-X :-X :-X :-X :-X :-X :-X :-X