Discussion Starter
·
#1
·
Time:
6AM-3PM
Weather:
HOT, 102 degrees. Winds 10-15MPH SSW.
H2O:
Clear 5'-6' visibility. 73-78 degrees. Lots of current. LCRA releasing water at 1900cfs at 11AM.
Coming into an event on Town Lake, I never feel confident. I really dislike river systems, hard for me to pattern fish. So, I decided I would just junk fish for once and throw everything I had.
Launched at AHS with Twex and JT around 6:15AM, and headed up lake towards Red Bud. Right off the bat, it got frustrating. Too many rowers out that decided they would rather try to fit between me and the bank when they have the rest of the lake to themselves. :
I fished hard for the longest time without a bite. I was getting really nervous. I had to get 1st place to even have a shot at AOY, and by the look of things in the morning, it wasn't going to happen. I kept flipping and pitching to laydowns and visible targets. Finally, a little after 9AM, I get a good bite. Set the hook and the fish goes airborne. After a good fight, I land her. 20"!
Way to start off the morning.
While measuring the fish, I see a rower coming. Since I couldn't move because I was CPR'ing the bass, he rammed right in to me, and then blamed it on me. At least he had padding on the end of his boat, so it did no damage, it was like bumper cars. ;D
20"er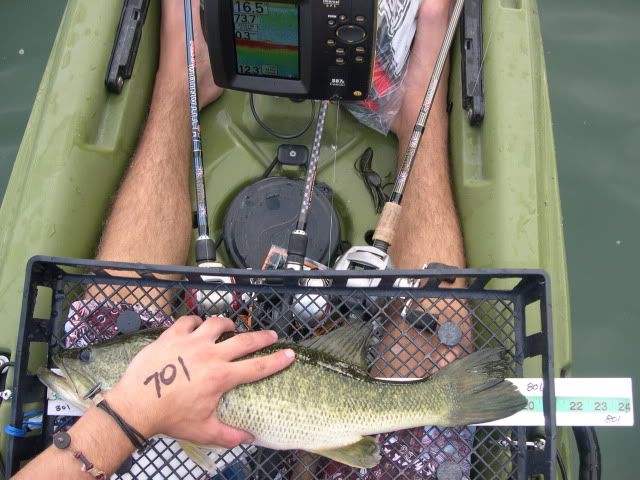 I get bit again on the same tree, but could not hook up. I paddle downstream and try to find some new stuff. I came across a nice ledge which drops from 6ft of water to 22ft. First cast with a drop-shot, I catch keeper #2, a tiny 14.25"er.
Couldn't get bit there which surprised me, because ledge fish are usually stacked up. Paddled down to the bridges and started flipping a V&M 5/16oz finesse jig. First cast, I hook up with another keeper. I felt good because I had 3 keepers in 45 minutes.
Sadly, it all went downhill from there. :-? Stopped getting bit. I did get bit a few more times, but they were scattered. Very annoying and tough fishing, at least for me it was. I did manage to lose a bigger fish on a drop-shot in a brushpile near a bridge pylon. He nearly ripped the rod out of my hand. Set the hook and he got in the brush. I pulled the brush loose and pulled a massive brush pile out of 20' of water with 6lb test. ;D
My day was very tough. I only got 6 bites all day, landed 5 of them. I hate fishing like that, it's very annoying and frustrating. Not to mention 100 degree weather, wind, current, rowers, dogs, and people who swim near the bridges. :
Thanks Dennis and congrats! You deserve it. That says something when you won AOY and you've been done fishing by noon every tournament! Way to go!