This is a solid option for boats that don't have wakeboard towers installed, but still want to goof around on a wakeboard. The rope anchors to a stainless steel eyelet at 7' ... plenty of lift for a wakeboard.
No drilling. No bolts. No hassles.
Takes about 5 minutes to setup and is rock solid. Lifetime warranty through the factory. I used this maybe 3 times before I lost interest in burning all my gas towing friends behind the boat. It's practically brand new.
300 cash. (Retails in the $360 - $425 range)
and these are very hard to find used (see followup post below).
not my boat (just showing what it looks like when setup).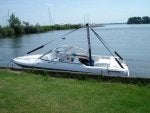 disclaimer:
I'm not interested in a wakeboard vs fishing debate.
nor talking about lake austin boat traffic.
I am interested in getting this thing out of my garage.