Discussion Starter
·
#1
·
First Annual Faith Angler Network 2010 Championship
October 22-23, 2010 Temple Texas
Faith Angler Network is proud to announce the first FAN CTTT Championship where we will be awarding a new 2011 Bass Cat Sabre powered by Mercury Outboards, to the winning team
BASSCAT HAS DECIDED TO BUILD FAITHANGLER NETWORK A 2011 SABRE INSTEAD OF THE 2010.
THANKS BASSCAT and TEXAS BOAT WORLD!
Congratulation to the Anglers of the Year earning a free berth to the Championship
Team – Lance Wenmohs of Round Mountain, TX.  / Mike Clark from Meadow Lakes, TX.
Male/Female- Earl and Leisha Loggains from Copperas Cove, TX.
Youth/Adult – Dale and Jake Read of Leander
FAN 2010 Qualifiers
ONE OF THESE TEAMS WILL WALK AWAY WITH A 2011 BassCat Sabre powered by a Mercury Optimax.
The Event
This two day event is Scheduled for Oct 22nd on Lake Belton, and Oct 23rd on Stillhouse Hollow Reservoir.
Hosting the Championship Banquet will be Immanuel Baptist Church in Temple Texas
IBC is located at 1401 W. Central, Temple Texas 76504, 254-773-2147
http://www.google.com/maps?q=1401+W+Central+Ave,+Temple,+TX+76504&sa=X&oi=map&ct=title
Registration will begin at 6PM
Official lodging for the Belton event will be Super 8 Midway located on 5505 General Bruce Drive (IH35).
[email protected]
Gene has special rates for Faith Angler Network and will be holding several for us. Please call Gene at 254-778-0962 you can also get more details from our website under the Official Lodging section.
Registration
Entry fees will remain at $150.00. Entries must be made either online at
http://www.faithanglernetwork.com
by 9PM October 15th
Fish Finders Marine or Texas Boat World by 6PM October 15th.
Rules
Day one of the two day event will be held out of Temple Lake Park on Lake Belton October 22, 2010.
Day two will be held at the Still House Park Pavilion on Stillhouse Hollow Reservoir.
Boats will go through a live will and boat safety check prior to launching at safe light on both days.
Teams will receive boats numbers via random draw during the per-tournament meeting October 21st.  Teams will be launched in boat number in pre-determined flights, on day two flight and team will be released in reverse or­der.
Championship waters (Lake Belton and Stillhouse Hollow) will be off limits starting at 7PM Sunday October 17, 2010 All teams are required to attend the meeting to be held the evening prior to the first day of competition. (At least one team member must be in attendance prior to the beginning of the inspirational message, and remain until the end of the meeting). Those not in attendances at the meeting will be declared ineligible to compete. Entry fees will remain at $150.00. Entries must be made either online at
www.faithanglernetwork.com
by 9PM October 15th or at Fish Finders Marine by 6PM October 15th. There will be one big fish paid on day one and two big fish paid on day two. In the event there is still a tie, a one hour fish-off will determine the winner, if possible. The details of the fish off or other options will be arranged by the tournament director.
In the event that inclimate weather forces the cancellation of one day of competition, the standings from one day of competition will be considered the final standings for the event.
No fishing information may be purchased, bartered, or solicited from any person who was on tournament waters during Official off-limits, practice, or competition days. Only information that is public domain may be used during the Official off-limits, practice, or competition days. Examples of this may include: published fishing reports, lake side publications, open information on the internet, forums, etc. All other Faith Angler Network Tournament Rules will apply to the Championship Tournament as well.
We would like to thank our sponsors whom make our efforts possible and ask that you visit their websites, and support them as your needs arise.
Texas Boat World, Bass Cat Boats, Mercury Marine, Motor Guide, Kistler Rods, Sebile Lures, Fish Finders Marine, Academy Outdoors, Gary Yamamoto Baits, Kinami Baits, Georgetown Shirt Company, American Rodsmith, Animal Custom Sublimated Jerseys, SmartShield Sun Protection, O'Reilly's Auto Parts,  Sure Life, Rudy's Country Store and Bar-B-Q, Hill Country Bible Church NW, Foundation Auto Repair, Pay Dirt Jigs, Sure Strike Boat Detailing, Pig Logistics. Alpha Graphics.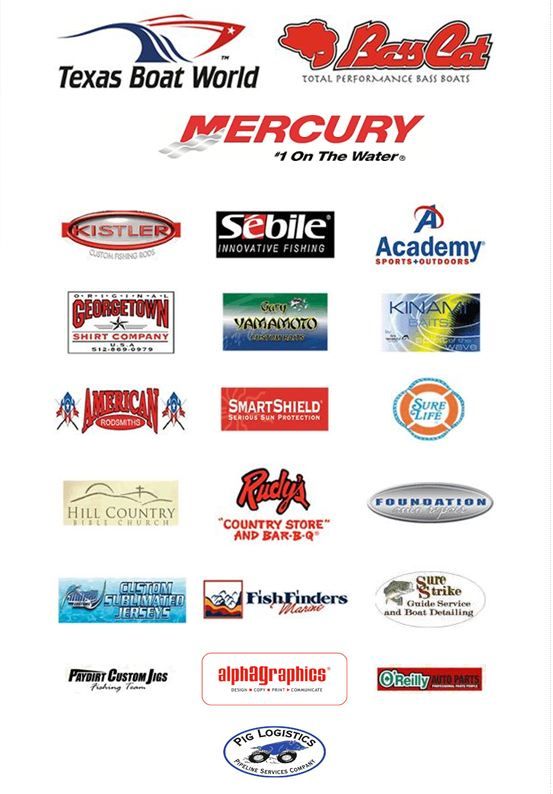 Follow the FAN CTTT trail on Texas Tournament Zone