Discussion Starter
·
#1
·
Wow, what a weekend
. I'm in the ranks of the "newbie" fisher-people as I've only really been doing this bass-fishin' thing for maybe a year. Don't own a boat nor know anyone (well) that does here in Austin. However, this past weekend the wife and I had some vacation time come free, so we borrowed my father-in-law's truck and little fibreglass boat, and took a random trip down to Lake Amistad. Mostly, the trip was to get away and do a whole lot of nothing, but the wife was all about going fishing, so of course we did. The boat is nothing special - just a 15hp outboard and a shell that don't leak, but it was enough.
We arrived outside of del rio friday at about 5;30, and while we didn't want to put the boat in, we wanted to wet the lines. So we drove over to governors point to do just that. Friday afternoon, I pulled in my personal best - see here. She went probably 4.5 as-is, but it was clear that she was spawned out - given the size of her mouth and her length, I'm betting she was 1-1.5 heavier a few weeks ago. FUN fish, and MAN what a huge mouth. Funny story, I was convinced that I was just hauling in a piece of tree - draaaaag and reel, draaaag and reel. I have no idea if she hit the bait on the stick, or if I just manhandled her into the shore
.
The next morning, we slept late (remember the original goal), and put in about 11a at Devils East (I think that's right, something like that, just past the exxon
). We discovered that our dog doesn't like being in the boat, so we took him back to the lodge. Our last fishing excursion took us to Exxon cove, out from the boat ramp, to the right perhaps 1/2 mile, then back into the depths of the cove. Here, we both had some luck - I caught the smallest fish I've ever caught, but it was cool seeing him swim to the bait, take it once, then take it again (getting the hook this time), and the setting the hook and bringing him in. Seriously, he probably weighed 1/3 of of a pound
.
My wife got her fish there, too - probably 1.5-2, seen here. It's worth talking about that she arguably outfished me this weekend - she had 3 solid hookups that threw the hook before she could get them to shore/boat. One was probably a weak hookset as I'm not sure she realized she had fish on, but the other two were plumb bad luck. She definitely had more bites than me, and it was a HUGE relief to finally get one to her hand.
A little later, I had another solid fish just DESTROY a jig that i was flipping off of a rock wall, where several other fish were hangin' (see later discussion for more). Here's a shot of me bringing him in, and a shot of him sideways. He was 1.5-2.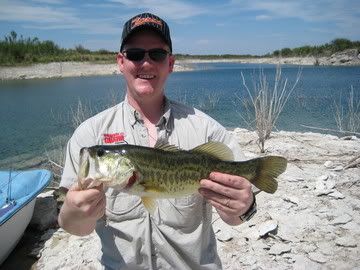 The trip was fascinating to me for several reasons, most notably because I got to experience, in person, a few things that I've read about or been told about in terms of finding fish. The coolest was seeing a fish on/protecting her bed. I think 1EyedJack talked about this a few weeks ago, too. I mentioned earlier that the water clarity was astounding - so when we found a place we could see deeply, we saw several fish that, while mobile, were staying pretty much in the same location. One of these fish seemed to be protecting a certain rock, and was far less skittish than other fish. She wa sprobably 10 feet down - I tied on a tan/brown 3/16 jig, and just flipped it down on top of her rock. She didn't want to eat it, but it was clear that she didn't want it there. She'd bump it, swim around it, dart away and dart back ... eventually she took it and I caught her, but threw her right back. It was fascinating to see this behavior that i'd only previously read about.
Also, I've seen many an article saying that steep rock drop-offs, especially near a point or shallow bank, hold fish. The same spot that I was describing above fit this bill to a tee - we actually got out of the boat, stood on the shore, and in some places could see 25 feet straight down off a cliff. This same spot held probably 15 bass of size that I counted, and likely MANY more. I begin to understand why spots like this are coveted. Of course, some of the fish mocked me - we sight-fished in some of the shallower water, and the fish would look at the bait, look at me, then swim off slowly, as if to mock me
. But again, fascinating to see how this type of structrue ABSOLUTELY held fish. I also bet that when the water is back up, this particular point, being a little deeper and not as visible, would be a treasure trove.
Awesome trip, I can see why you all love going down there. Next step is to go with someone who can show me how to actually fish the lake, rather than just stumble upon a few of the more "intellectually challenged" fish that took our lures
.