Discussion Starter
·
#1
·
Well, Trey Epich (Chitownlonghorn) and I went to Little Rock, AR to fish the Under Armor National Championship on the Arkansas River.  We were fishing out of a Texas Boat World 20X3 Triton.  Thanks Cliff!
It was hot and there was very little current.  Niether one of us had fished a river before (Lake Austin isnt a real river at ALL).  We prefished for 2 days and found 3 spots that produced largemouths (15" minimum) and spotted bass (12" minimum) in pools 5 and 6. We had some great confidence going into the first day.  
The first day we weighed 4 fish for 5.63lbs and was sitting in 12th.  We caught all fish on strike king sexy shad 4s cranks.  I had 3 fish come off the crank that would have helped.
The second day we weighed 4 fish for 8.48 lbs and finished 7th.  We were about 6oz away from making the top five cut.  I caught one fish on a rattlesnake, and 2 on a jig. Trey caught one on an H20 crank. We had an awesome time!
Well, the only bad thing is OU beat us by .01 lbs.  I think they put sinkers in thier fishes mouths. haha jk
Check out the full results on
www.collegebass.com
or
www.texasbassteam.com
soon.
Oklahoma Texas Staredown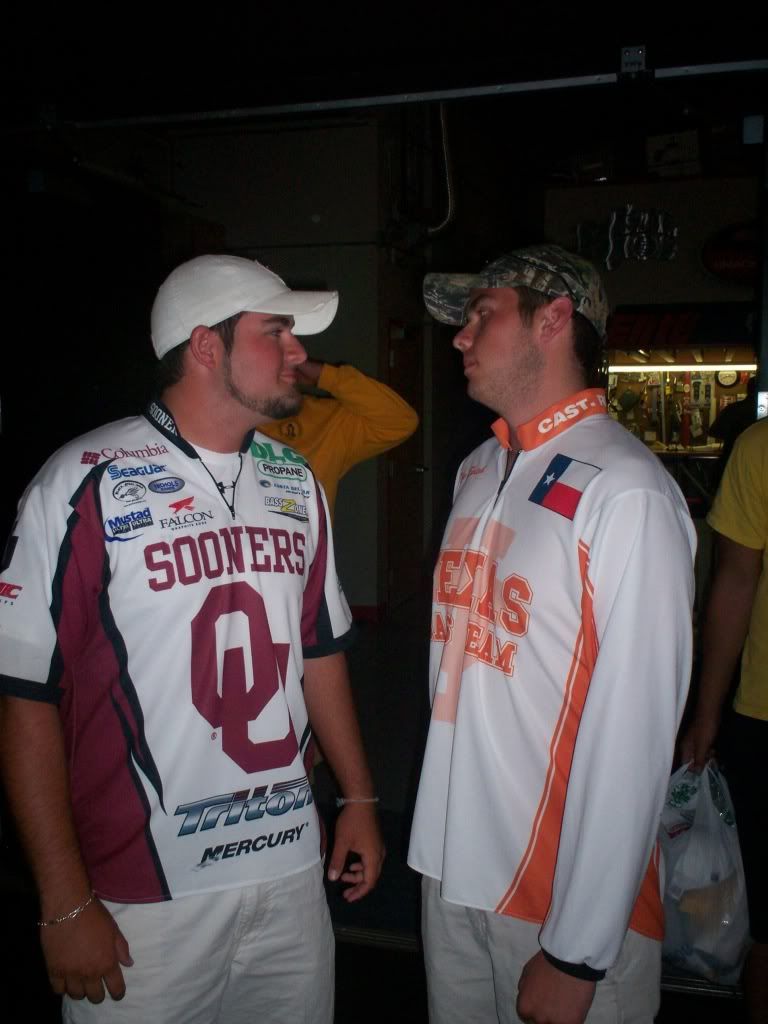 SOB Spinnerbait fish in practice
2nd Day Weigh In
We stopped at Lake Fork on the way home and i caught one 2.5 lber and broke off another bigger fish on a pond dam.  What a great way to end a fun trip.
Take care,
Bobby Frey