Discussion Starter
·
#1
·
Sorry for the Late Report. Got back late Sun and this wk has been busy
Went to Choke for Thanksgiving weekend with Dianna and kids, Holly & Tristan. We met with Debbie (Deb on ABF) & Jim, and Lance (Nitro Lance on ABF). With 3 boats we were ready to get out and Stick some fish
Unfortunately the bite was SLOWWWWW :-X
Between Dianna, Holly and my self in our boat, we only managed 15 bass and 8 catfish for 3 days of hard fishing. There is alot of great structure on Choke and we hit alot of it. Could not buy a bite off of the trees unless it was just out side of or in a grass line. All our fish came from the grass. On Friday in the evening I was able to get on a good Spro frog bite. Boated my largest fish of the weekend which was right around 5 lbs
On Sat & Sun all fish were caught on senkos
on the outside edges of grass lines. Sat Afternoon we took both kids out for 2 hrs and caught 8 cats with Holly catching the largest one which was close to 7 lbs
Cats were caught on shrimp and livers.
Now for the Story of the big one that got away. On Sunday morning we woke up to the front. Temps had dropped from the mid 70's on Fri & Sat to a high of 64 on Sun. A northwind blowing 15 -20 and 30 mph gusts. With the wind I decided to go across the Lake into 3 fingers. In the second finger there was a good wind break. Just off the point there our reeds with several flattened by alligators rolling themselves. The grass line is about 20 ft out from the shore. I was pitching a Senko to the outside edges of the grass line when she hit. I knew immediately that I had a big girl on when she immediately ripped off 15 yds of line. I fought with her getting her away from the grass line when she got wrapped on a branch under the water. I immediatley put the trolling motor on high and got over 2 her. Using my paddle i found the water was about 4 ft deep. Laying half way over the boat with my arm in the water to the shoulder I was able to feel her. She was still hooked up. My hand which is not small for those who have not met me could not go from back to belly
. I slipped my hand down and under her belly, almost falling out of the boat with my pole in my other hand the whole time. Mind you there is alot of thrashing around going on. I am over excited. This fish was easily a double digit. I hollered for Holly to grab me the net. I was gonna try to net her then have holly cut the line and get her into the boat. Missed her twice and then it was over, the line snapped.
:'(
Needless to say I dropped a couple of F-Bombs
Then I am sitting there trying to get over what just happened when Holly excitedly says Jim look, and shes pointing at a 15 ft gator in the water about 20 ft away. Had obviously heard all the thrashing and was coming to check out all the commotion. Thankfully my arm was not lunch
Well fishing was slow but had lots of fun with good friends. I will be back on Choke soon.
5# on a frog.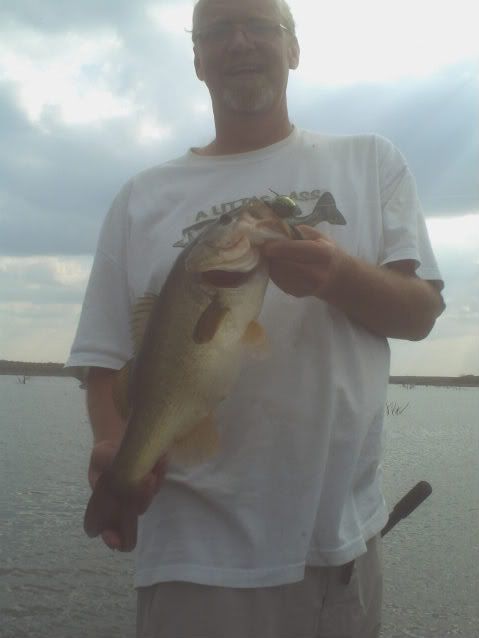 Hollys Cat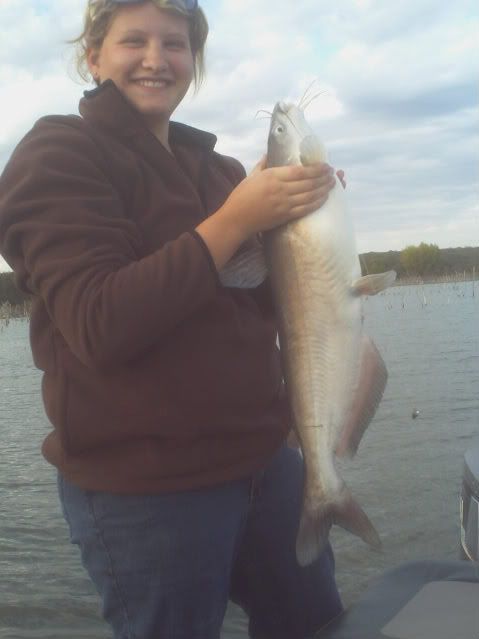 Jim ;D