Discussion Starter
·
#1
·
Headed to the coast this weekend. Dianna's birthday was 9/23, so this was her annual birthday trip.  Stopped Fri morning at Choke Canyon on the way down. Wanted to see the lake and wet a line real quick. We ended up fishing for 2 hrs. All together we caught 10 fish. I caught 4 with the largest going around 3 lbs. But the real highlight of the trip was Dianna's 17 yr old daughter, Holly catching the largest and her PB Bass
It was right around 5 lbs. There really is nothing better than seeing a young fisherman catching a big fish
. To top it off I caught my 3 lb bass at the same time. We were fishing a grass flat w/ TR watermellon/red grandebass rattlesnakes.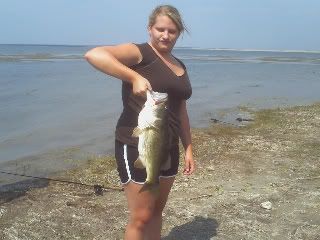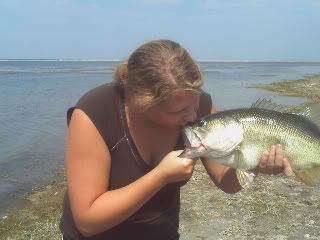 We left them biting and decided it was time to get on down to Corpus. We got checked into our hotel, which was right on the beach. Went to blackbeards for dinner ( which was awsome). Hit the sack early to get started early Sat morning. Went to S. Padre Island. Fished a jetty. Nobody was catching anything but rocks. Including myself :'( I had just tightened my drag all the way where I could break off my rigging. Forgot to readjust. Big Mistake. Got a light bite and set the hook. Fish was obviously swimming toward me. Felt light. Then she turned and bent the pole in half anf the line snapped :'( I never saw it.
That was the biggest excitement as far as fishing went.
The bite was not there this weekend. Nobody was catching any fish.
We did have a great time and I look forward to going again.
   Jim ;D