$35K - price lowered 6/13
90 percent of the time on this boat is in freshwater. I fish the land cut about once a year, and make about 2 jettie / near shore trips a year. I usually fish Fayette or Conroe. The outboard clocks about 15 minutes per trip to Fayette.
I moved to Dallas, and the boat hasn't seen much use since. The boat is currently being stored 1 hour east of Dallas on Lake Tawakoni.
2009 Lanier Custom Boat
.
I am the second owner. I bought it in 2010. It came with a 250 merc XB. The 300 HPDI replaced the 250 XB after the gear case exploded and the power head blew.

2010 – Yamaha series 2 HPDI 300HP (Motor purchased new, installed August 2011).
The steering system is a Marine Machine with wing-plate. The tilt tube is solid stainless. The hydraulic ram is very stiff. This is a far better steering system than anything offered by sea star. The only downside to this setup is the number of turns (of the steering wheel) from lock to lock. This is slightly annoying when docking the boat… but being able to turn the entire boat at any speed with only 1 finger is really nice.

Boat comes with 3 props.
All are Mercury Bravo 1. I have 2 solid state hubs for the following props…
22 with flare ring intact (not modified at all). This one offers excellent bow control, and excellent shallow water performance. Hits the rev limiter at about 62 mph, but it will easily do so with 4 men, 60 gallons of fuel, 60 gallons of water, and 2 yetti 125's full of food and drinks.
24 with flare ring removed. This is my every day prop.
26 with flare ring removed. This one is good in winter. It likes to be run VERY HIGH. This was my favorite prop on my 250 XB, but after blowing the gear gase (bc I was surfacing it, I've only used this on a few times on the Yamaha). This is your go-fast prop.
Trolling motor was purchased new in 2016. It is a 112 MK Fortrex with lift assist. The foot pedal is recessed into the front deck.
Graphs are: Lowrance HDS9 with dual 7m.
2 Smart Battery 80AH Lithiums and 1 size 31 EXIDE AGM battery. Exide AGM powers the motor. Most of the accessories run off the lithiums. The 20inch light up front and the trolling motor, are the only things which pull from the AGM.
4 Seablaze X lights. 2 are Green / 2 are Blue. Each are on 24V with GSpot services LED backlit switches.
3 bank Min Kota charger – bought new and installed about 3 years ago.
New seats installed about 3 years ago. The front seats fold down. I can't remember who makes them, but the seats alone were over 1000 dollars. They are very comfortable.
8 foot power pole with remotes.
20 inch 36 volt splash light on the bow. (this thing is mega bright)
Hot Foot
2 – 30 gallon livewells (one of which needs a new shutoff valve)
~60 gallon fuel capacity
Blinker style trim
Blinker style adjustments for the jack plate AND Dial adjustment for the jackplate
4 rod holders
Speakers are Rockford Fosgate. I think they are 8 inchers, and are powered by a JBL amp. It sounds great. The JBL amp is Sirius compatible, and also accepts flash drives. It does not have Bluetooth.
SafeFloor covering entire deck. The black longhorn on the front hatch can be replaced with whatever you want for about $200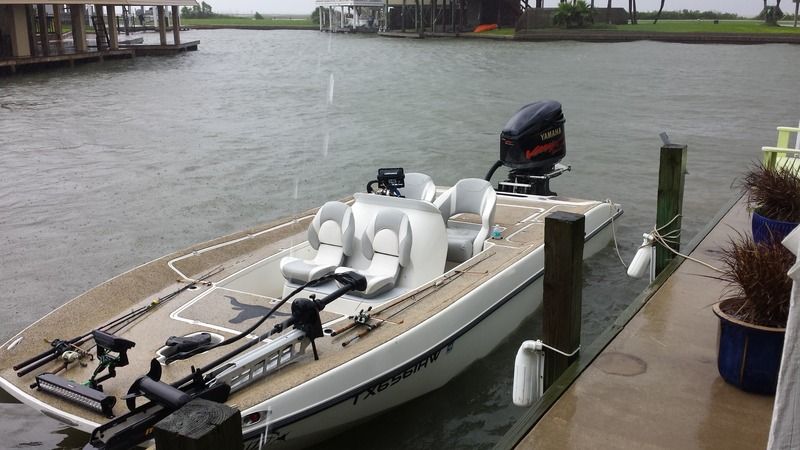 Old Trolling motor shown below. New 112 fortex installed about 9 months ago